Our beautiful, badass babes braved the winter weather again for the third time this season! But this time we had the honor of vibing in the cutest little A-frame home in a healing hot tub backed up to towering trees in Lake Tahoe with our fav mood-boosting beverage in hand, Psychedelic Water.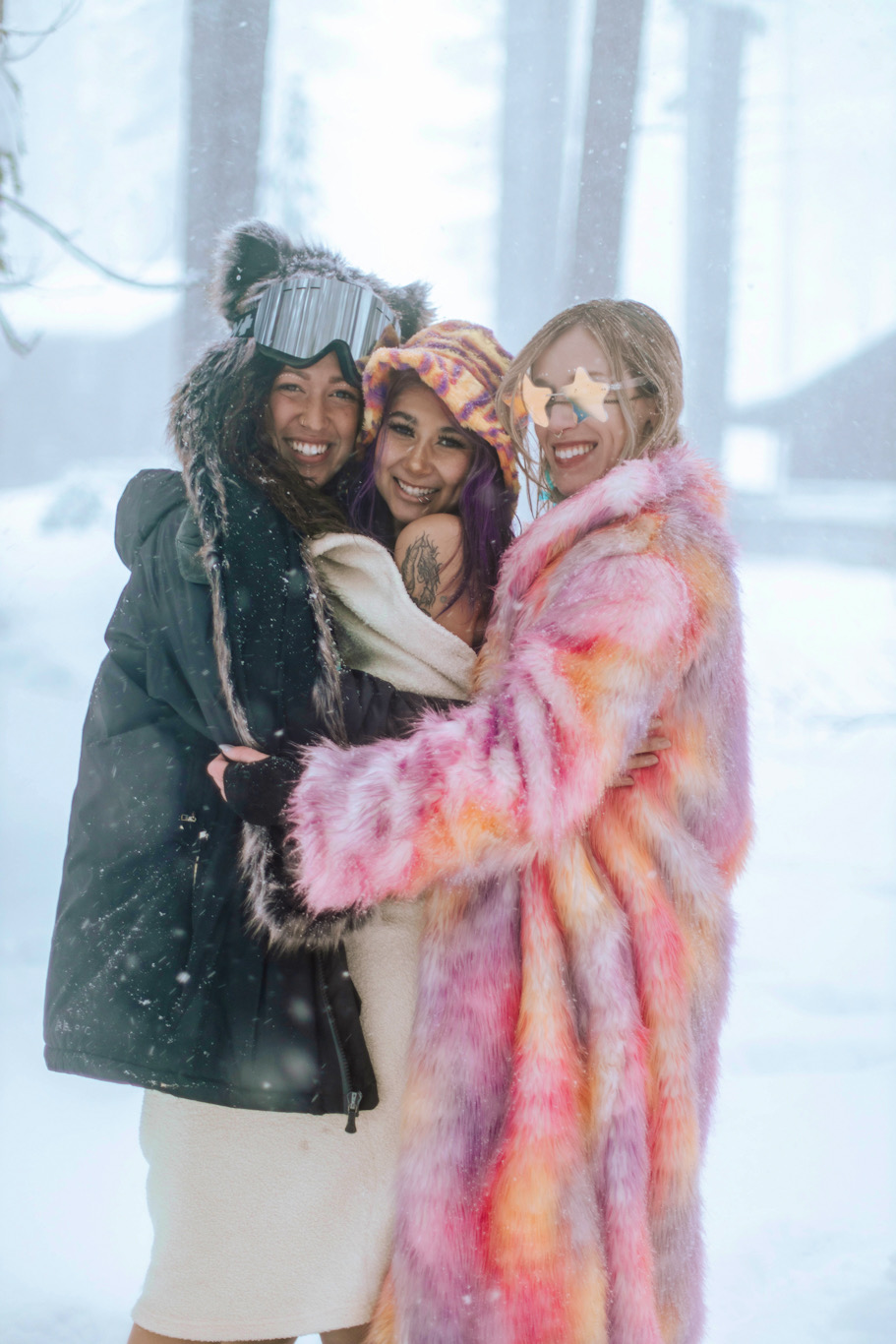 Brittani, Kai and Liv keeping the vibes high in a full on snow storm. 
The snow showers were in full effect on this day, with chain control set up on the highway to ensure that everyone driving to and from Kings Beach was properly equipped for the icy journey. 
The adorable A-frame belonged to some new friends I met at a Nora en Pure show in Reno last fall. I am always grateful for the homies old and new who help make these connective, creative days possible! 
Our gals traveled from not too far this time, hailing from Incline Village (Mal and Liv) and Reno (Brittani and Kai). Our brilliant photographer Gabbie made the hour-long trek up from South Lake Tahoe.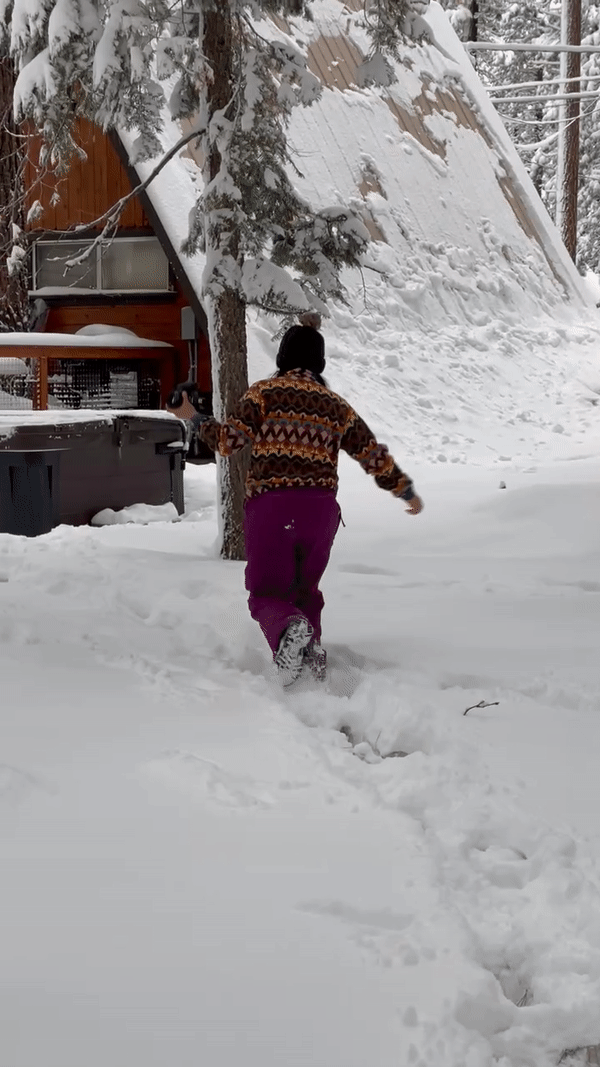 Run Gabbie, run!!

The theme of this shoot was Psychedelic Apres Ski! We simulated the story of our gorgeous goddesses descending from the snowy mountains after a full day of shredding the slopes for some rest and relaxation with some high-vibe Psychedelic Water. 
This was my first time diving into the full experience of this alcohol alternative drink, and it is now my new favorite thing ever. I gave up alcohol three and a half years ago in favor of a healthier, less self-destructive lifestyle. Since then I've tried all kinds of non-alcoholic drinks like Red Bull, Yerba Matte, Bang Energy and even Monster. Most of those drinks have way too much sugar and the high caffeine effects leave me feeling jittery and anxious, which is not helpful if you originally had a drinking problem because you were always trying to take the edge off.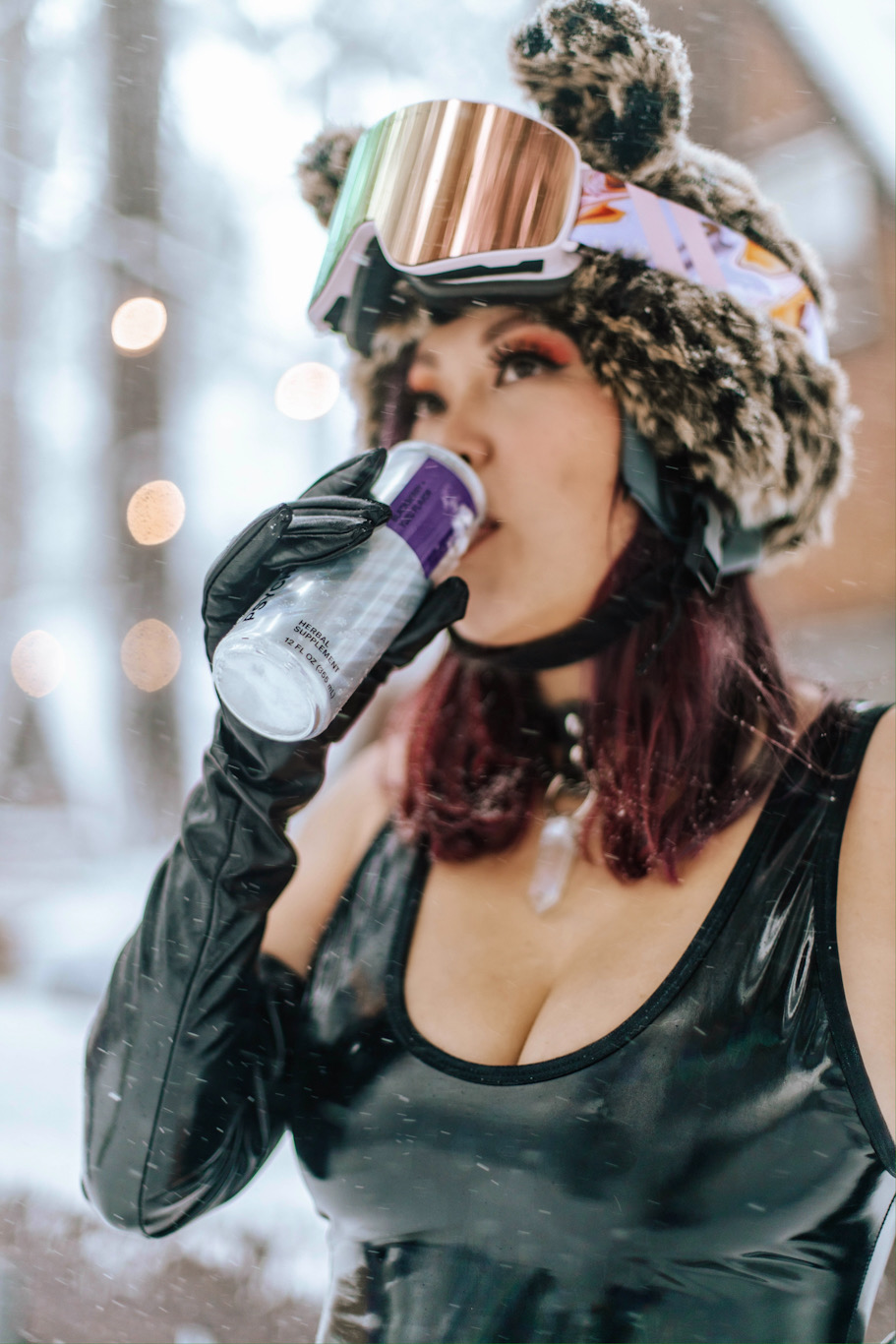 Here I am, three years into living an alcohol-free life, taking a thoughtful sip of my new favorite party drink. 

Psychedelic Water is seriously the perfect drink if you just want to enhance your experience and vibe. It's mellow, relaxing and mood-boosting. The groovy, holographic cans contain the balanced flavors of four unique variations: Prickly Pear, Hibiscus + Lime, Blackberry + Yuzu and my personal favorite, Oolong + Orange Blossom. There's no CBD or THC, but instead a beautiful blend of kava root extract, tunera diffusa leaf extract and green tea leaf extract.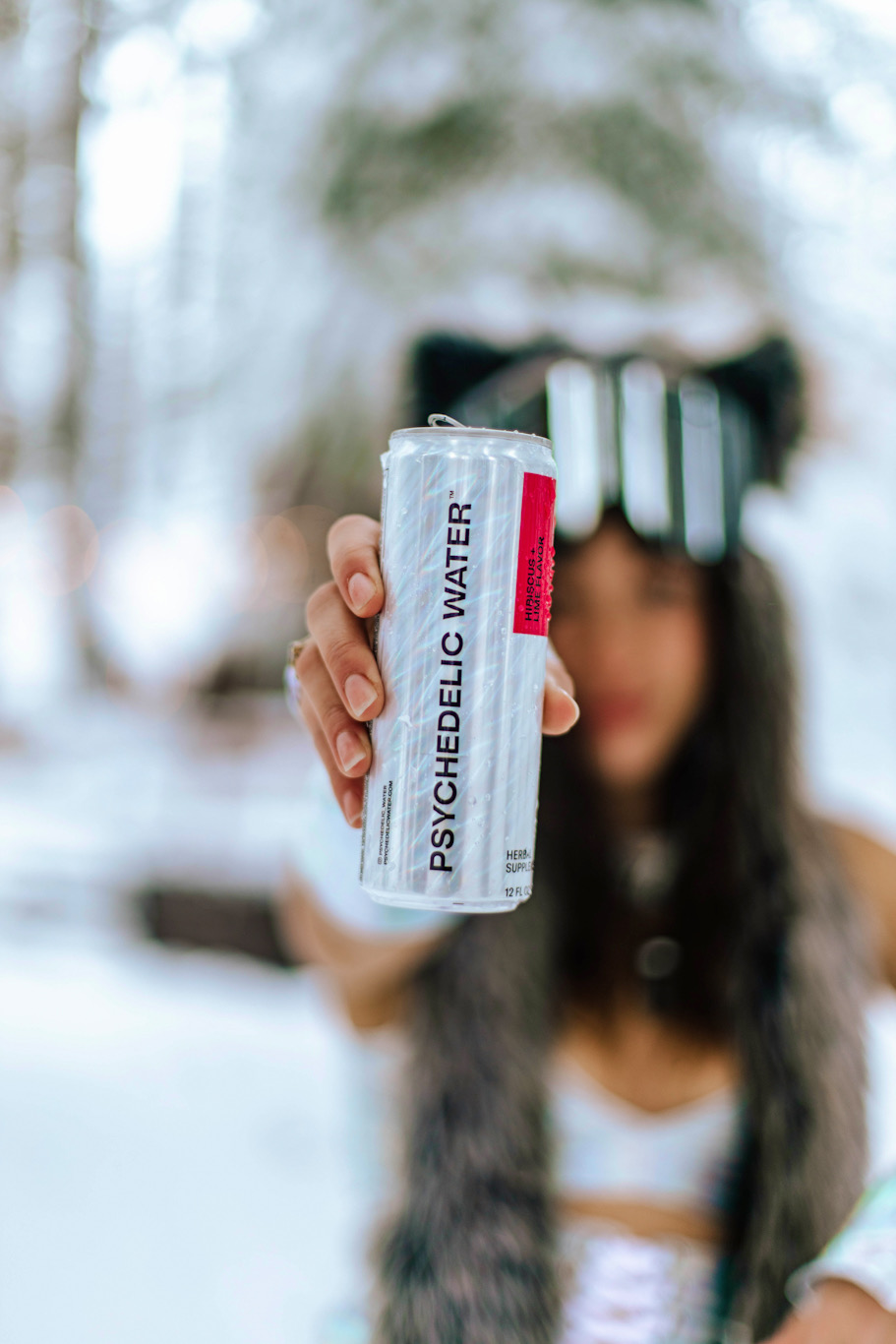 The packaging is as groovy as the drink tastes. 
After stumbling around in the freshly fallen powder shooting our first looks, we strapped on our swimsuits, sank with a sigh into the bubbling hot tub and cracked open our drinks.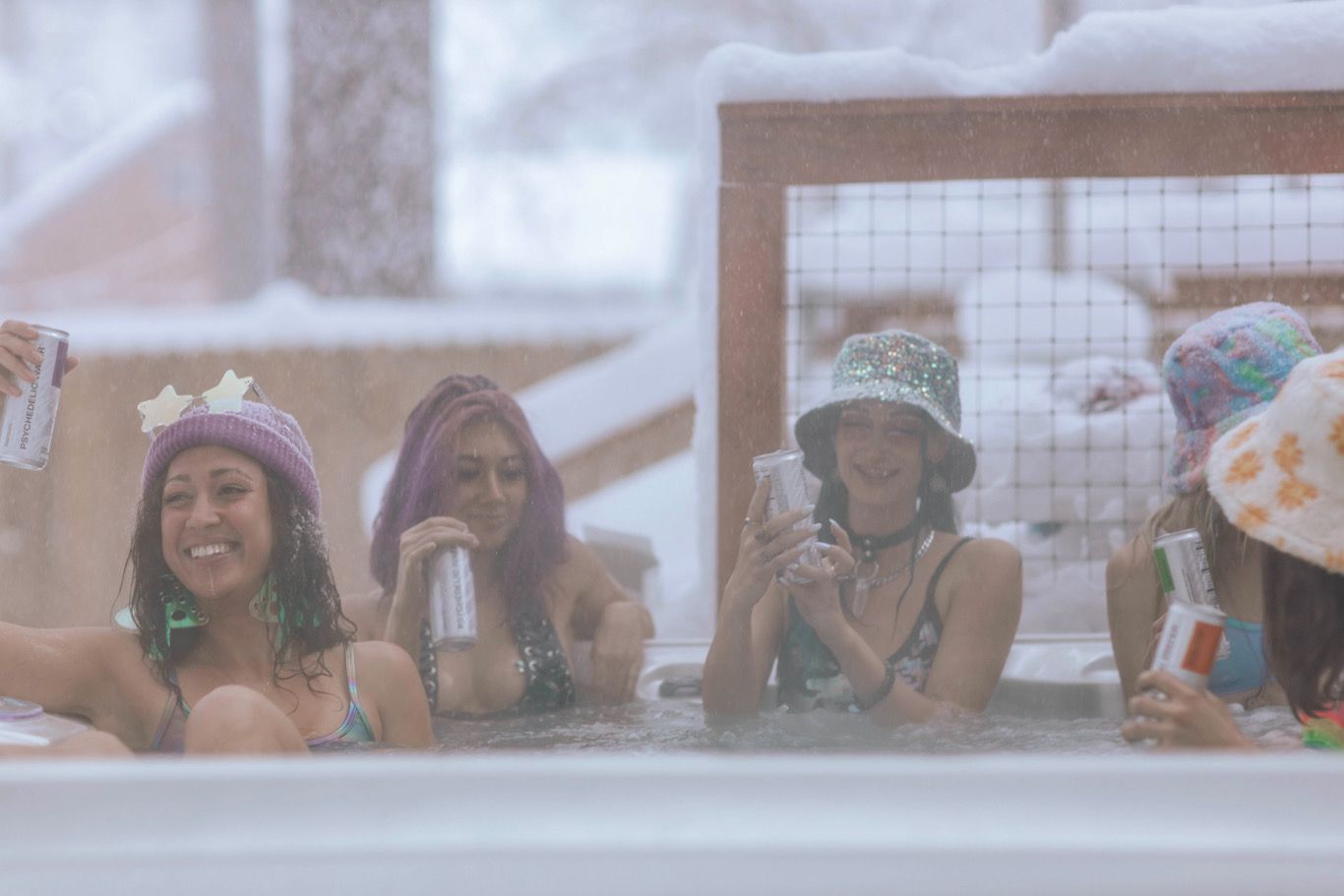 Vibing so hard! 
I felt the positive effects of the Psychedelic Water blend  right away. I was giggly, more open-hearted and aware. I felt more connected to the babes around me as we bounced our energies off of each other, and the majestic sky high pine trees surrounding us. 
There was no jitteriness, no gross aftertaste or weird feeling in my mouth, or flippy stomach side effects. Just smooth, mellow, relaxing and elevating energies. I was seriously in love with how the drink was enhancing our hangout in the woods. I'm amazed at how the drink so easily slid into our social group as an effortless alcohol alternative. We passed the cans around, sampling the different flavors and sharing random stories (if you were there, you know)!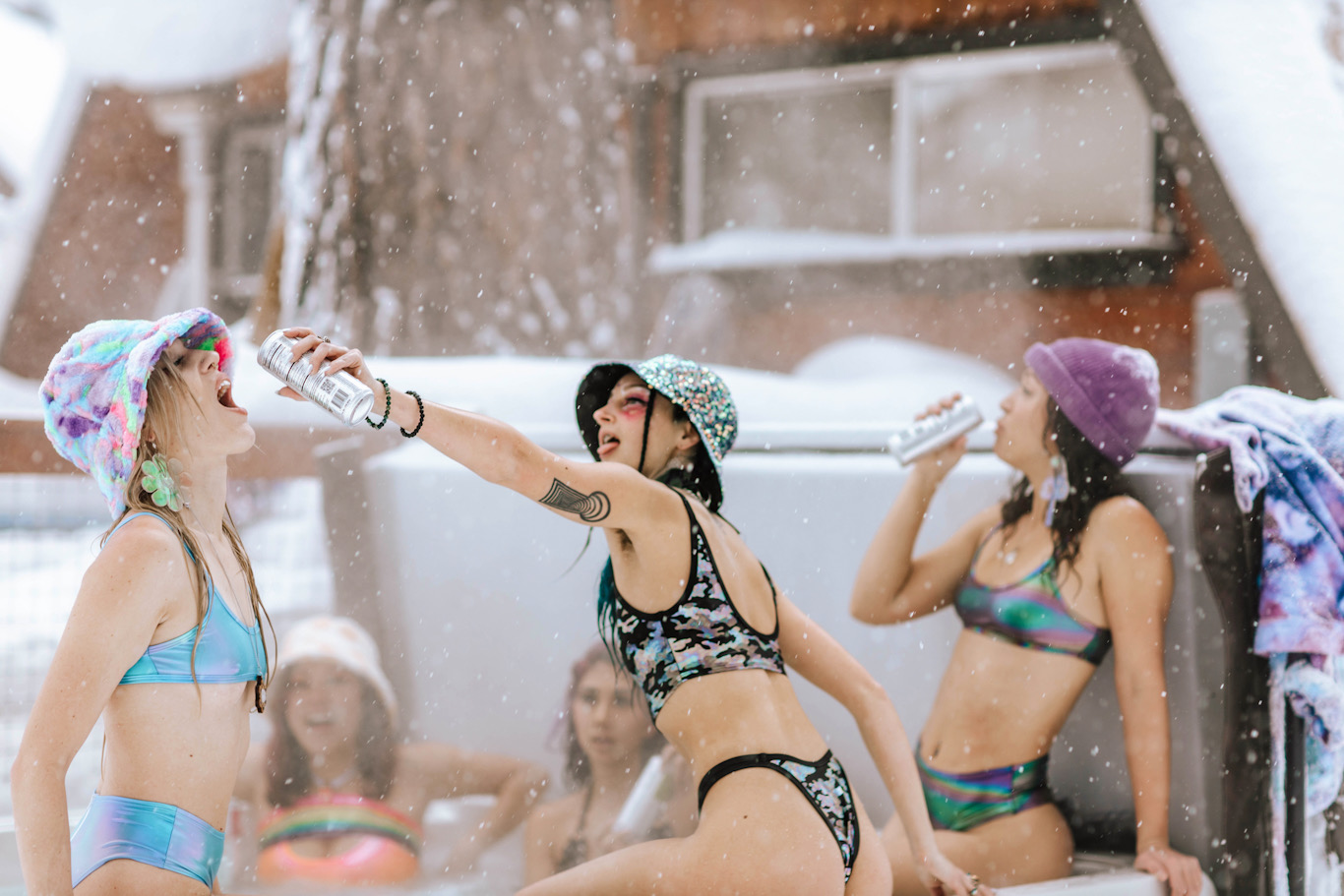 Leaving no drop behind! 
The clever, charming, down to earth group of girls I had the honor of creating with on this day along with the mood-boosting bubbly inspired a little moment of zen as I let the hot water soak my soul. I took a deep breath, paused and stared up at the trees. I witnessed the silent snowfall flurrying from the cloudy sky. I thought, life may be full of challenges and obstacles, but how many of these are we manifesting ourselves? How wonderful it felt to relax, let go for a moment and just be. Perhaps we really are meant to be here on earth simply to be an excellent vibe.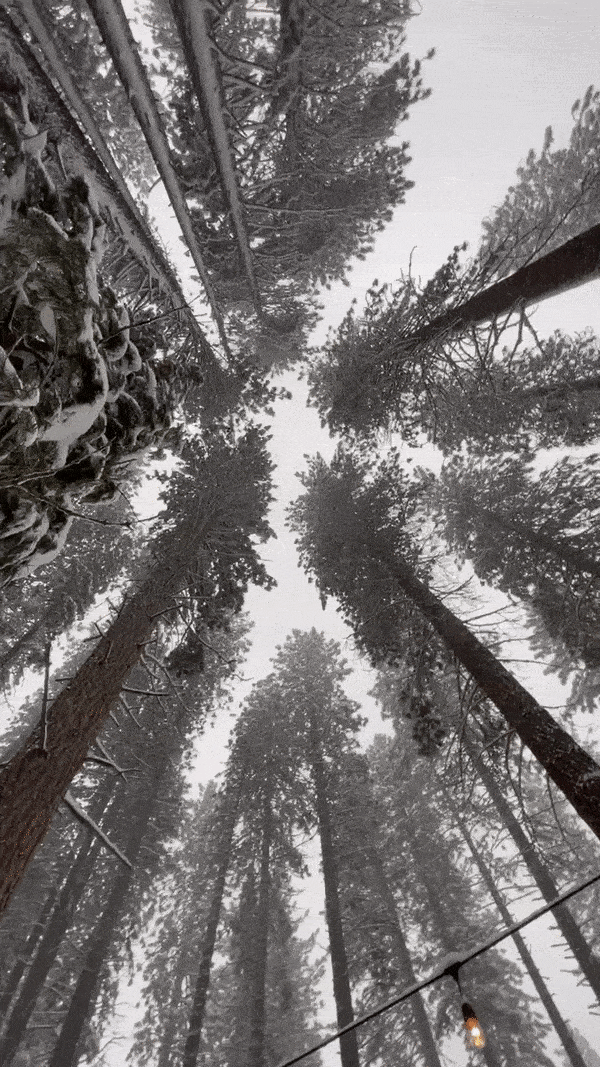 Deep thoughts in the deep woods. 
After our lovely soak in the tub, we quickly tiptoed through the snow back into the house and dried off. As we were packing up and getting ready to go home, all the girls made sure we didn't leave a drop of the drink unfinished. Everyone loved the flavor and effects of Psychedelic Water as much as I did! 
I can't wait to bring this drink with me the next time I hit the slopes or the dance floor. I'll def be bringing several cases of Psychedelic Water for me and the homies at our next music festival. 
If you're ready to take your life adventures, social experiences and musical journeys to the next level with an energy drink that is actually GOOD for you, I highly recommend Psychedelic Water. 
Use code LBD10 and get 10% off your order! 
Thank you so much to Kai, Brittani, Liv and Mal for modeling and coming to hang out with me. Thank you to Gabbie for always perfectly capturing the energy and essence of our hangouts! 
Here's to a healthier, high vibe year of adventures with old and new friends…and drinks that are totally hangover free so we can keep the good times rolling.